Altis Sponsorship Helps Paragliding Club as They Soar to New Heights in 2019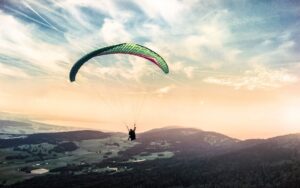 by Ian Stuart, Principal Consultant – Altis UK
As a company, we are proud to offer sponsorship to sporting teams that our employees and their families are involved in!
When I heard of the scheme I was quick to suggest sponsorship of my hang gliding and paragliding club in Kent: Dover & Folkestone Hang Gliding and Paragliding Club (DFHGC).
I have been a keen paraglider pilot for 10 years and I have a passion for helping others to enjoy the incredible experience that comes from flying without an engine. I am a coach at DFHGC and I served as safety officer for three years.
For the last two years, Altis have helped DFHGC by contributing to their pilot development fund. This is a pot of money that is set aside to help up and coming talent achieve goals that may otherwise be beyond their means due to limited finances.
The past year has seen exactly that happen with DFHGC pilots gaining awards and recognition far beyond what might be expected from such a small group of pilots.
John Finagin (DFHGC Chairman) commented about Altis' support in a recent newsletter:
"…supported by Altis sponsorship we have seen our relatively small club punch well above its weight in terms of competition performance right the way up to the Paragliding World Championships in China."
"As a club, we are fortunate to have had the goodwill and encouragement of others too, not least our landowners and of course our sponsor, Altis, to whom we have thanks for enabling us to engage and share in an activity that is little short of inspirational for us all, whether achieving the dizzy heights of competition flying or for most, enjoying the sheer delight of soaring among the birds and clouds and landing safely with the biggest of smiles on our faces."